Sooner or later, every property owner has to go shopping for a new door lock. Most people are naturally not experts in the field and rely primarily on the national grading system and reviews. However, this may not be sufficient for making the right choice. Check out some essential factors that you need to pay close attention to. In this way, you will get a locking device which will provide optimal protection and be convenient to use for a long time to come.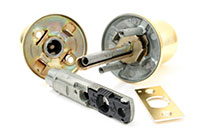 The Best Replacement Lock for Your Property
The material which the locking device is made of is the first thing to check. This is because the strength and durability of the item will depend primarily on its make. It is best if both the internal and external components of the device are made from brass or steel. You should watch out for door locksets which are made of a weaker metal and then plated with brass. If a brass model seems suspiciously cheap, you should study its make more closely or ignore it altogether.
Even if a lock has the strongest bolt, it can still be unlocked with a picking technique unless its cylinder is designed to withstand such an attack. You must pay close attention to the cylinder design and technology. A greater pin number lowers the chances of successful picking. Similarly, a technology which prevents the use of bumping will enable the lock to give you a much higher level of security. Usually, such locking devices are made to fit most types of doors. You can have peace of mind about lock installation.
If you plan to get an electronic lock, you must ensure that it has backup. Ideally, the device will have two types of backups. It should have a mechanical lock which works with a physical key. In this way, even if you forget the password, you will avoid house lockout and get back inside. The other backup should be a battery. It should enable the functioning of the electronic device while the power is out. It is best if the lockset comes with a low battery indicator too so that you will know when to replace it.
Do not forget to check whether the lock can be rekeyed. The specialists of our locksmith company in Justice recommend the use of rekey-able locking devices. This makes it much easier and quicker to restore the security of the entire property in case of key loss. You will not have to worry about having to change the lock in case of such an accident.
Now you know what to look for in a lockset. It is not hard to check for the things mentioned above when you go shopping, but this will certainly pay off.